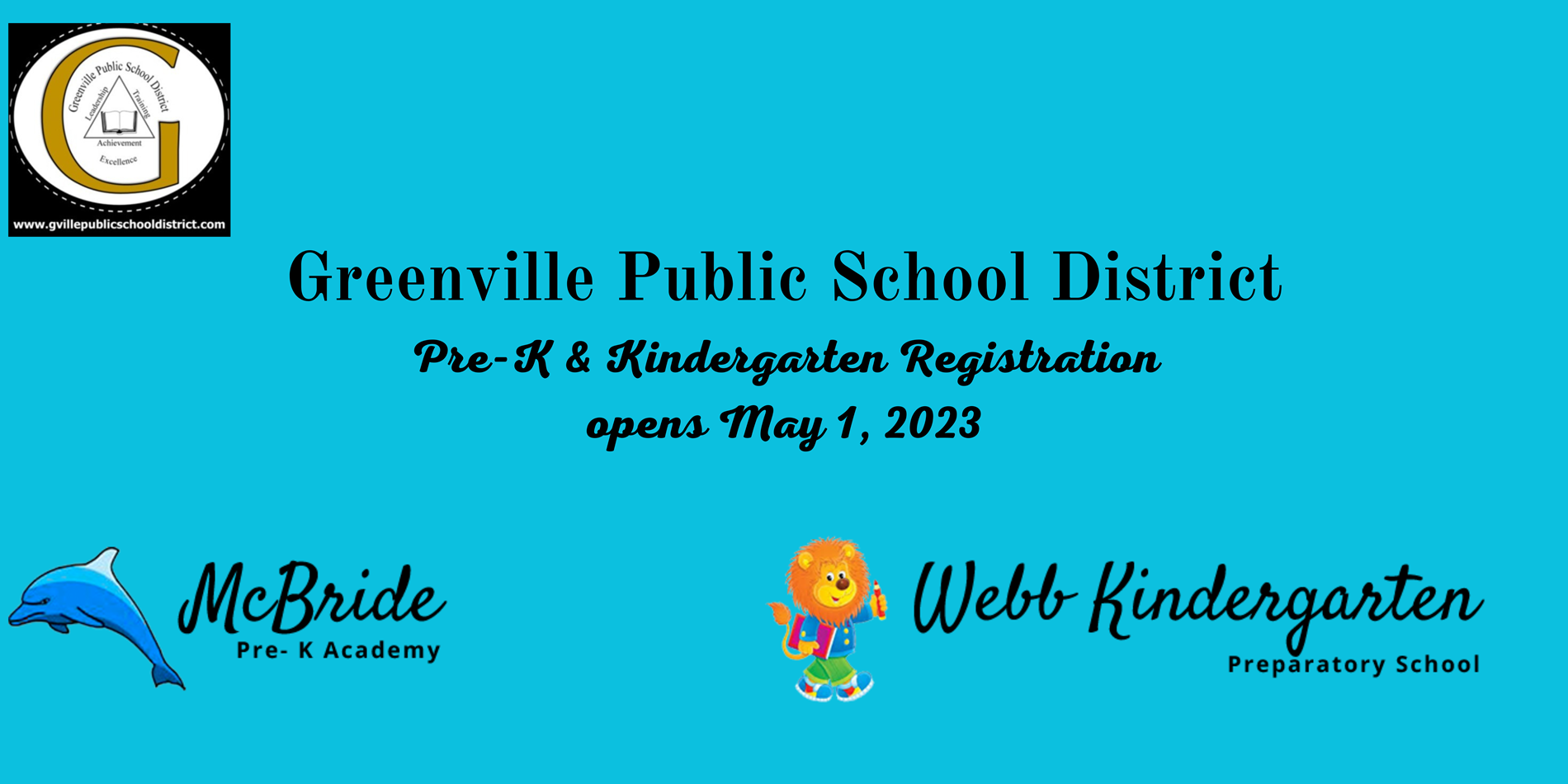 Register for the Pre-K & Kindergarten Programs
Registration for the 2022-2023 school year opens online Monday, April 11, 2022.
Greenville Public School District offers:
McBride Pre-K Academy: students who will be four years old on or before September 1, 2022.
Webb Kindergarten Preparatory School: students who will be five years old on or before September 1, 2022
Required Documents

Our registration platform will allow you to upload required documents at the time of registration. We will also receive documents via postal mail or our district drop-off location at McBride Pre-K Academy or Webb Kindergarten Preparatory School. All documents must be received via the online application, postal mail, or delivered in person in order for your child to have a complete application.
Required registration documents* for our programs are:
*NOTE: Any document with a P.O. box as an address will NOT be accepted by school officials.
Copy of child's original birth certificate

Child's updated immunization record (Mississippi Immunization 121 Form) must be marked:

NOTE: Form will only be accepted with a pending appointment for 4-year-old immunizations. You must provide proof of scheduled appointment from physician's office.
1. Two Proofs of residency:
NOTE: the parent/guardian's name and address on each of the below items must be the same.
Any of the following documents:
Mortgage document (No Rent Receipts)

Property deed

Filed Homestead Exemption Application form

Apartment or home lease with the expiration date

Voter Registration Car



Utility bills (water, gas or electricity) should be dated in the current month or previous month at the time of drop-off. Outdated utility bills will not be accepted.

Valid Mississippi Driver's License or Mississippi Identification Card

Any other residency document that will establish that the parent or legal guardian resides within the Greenville Public School District
2. Brigance Early Child Hood Screening(McBride Pre-K)
Students are screened to determine the academic need of the student in the pre-K program. The district uses this screener to measures the

mastery of early development and academic skills, which can serve as the first step in assessing a child's school readiness. The screening will take place during school hours.
3. Guardianship
If you are not the parent or legal guardian, please provide guardianship documents to complete registration.