Haywood Recognized as a MASS Hero!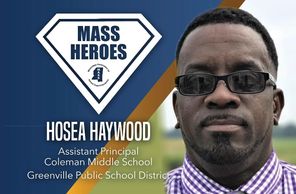 ---
Let us take a moment to recognize our very own Hosea Haywood as a MASS Hero for his outstanding support and leadership at Coleman Middle School. Kudos Mr. Haywood and keep up the great work.
#TogetherWeCan
"Our district moved to a one-to-one initiative due to the pandemic. We were excited about the move, but several of our families were not aware of how to properly engage in virtual learning and how to properly operate the new devices.
Although several trainings had been provided, some parents and students were still very frustrated. Assistant Principal Hosea Haywood, the device administrator, went above and beyond to ensure our students were able to login to their new devices and reach to the proper platforms to effectively participate in virtual learning.
Mr. Haywood responded to house calls after he provided all the support that he could offer via phone. Some parents do not have transportation to bring the device to the school to receive assistance. Some students live with their elderly grandparents or guardians, who are unable to assist. Mr. Haywood goes to homes of those who need hands-on assistance. He remains in his vehicle, the device is brought to him, and he assists the student and parent. To ensure safety, everyone has on a mask.
Mr. Haywood does not leave until the task is complete. Mr. Haywood does this during a pandemic. Although it is not often needed, he is willing to go above and beyond to ensure that our students and families are prepared for virtual learning. Mr. Haywood does this and much, much more. He is a phenomenal leader who leads with soul; he's definitely a hero."
Principal, Coleman Middle School
Greenville Public School District