GPSD students return from Christmas Break with Virtual Learning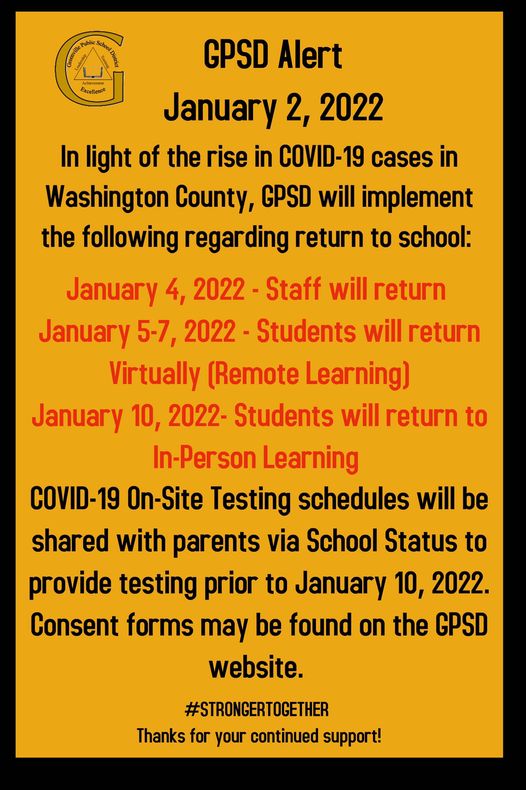 ---
As the holiday season nears an end and new variants such as Omicron evolve, we must all be extra vigilant in doing our part to help keep ourselves and those around us safe. With that being said, GPSD staff will return to school on January 4, 2022 and GPSD students will return Virtually on January 5-7, 2022. Students will return to school for in person learning beginning Monday, January 10, 2022.
School officials will send additional correspondence to parents via School Status. Please continue to follow us on social media platforms and visit our website. Navigating through this pandemic will take all of us working together. We ask that you continue to follow the current district protocols regarding sending your child to school.
Here's what each of us can do to limit the spread of the coronavirus and support healthy schools and in person learning:
Though not required, we encourage everyone to get a flu shot and the COVID-19 vaccine or booster if you haven't yet done so. The vaccine is now available for everyone five and older. Please visit the MS Department of Health website to schedule a vaccine or booster shot. Or call the Mississippi COVID-19 Hotline at (877) 978-6453 for appointment assistance.
Wear a mask that covers your nose and mouth when in indoor public places and outdoors where there is a high risk of COVID-19 transmission, such as crowded events or large gatherings. For everyone's safety, GPSD will continue to require masks to be worn in ALL buildings. It will be imperative that students and staff comply with mask wearing requirements in schools as this will be strictly enforced.
Get tested, it's free – we are asking everyone in our schools and offices to get tested prior to returning to schools to ensure you are COVID free when we reopen, especially if you have symptoms of COVID-19 or have had close contact with someone who has COVID-19. Visit the MSDH website for scheduling support.
Covid-19 Testing will continue to be offered in-district for staff and students. Parents must submit the consent form to their base school representative if you have not already done so.